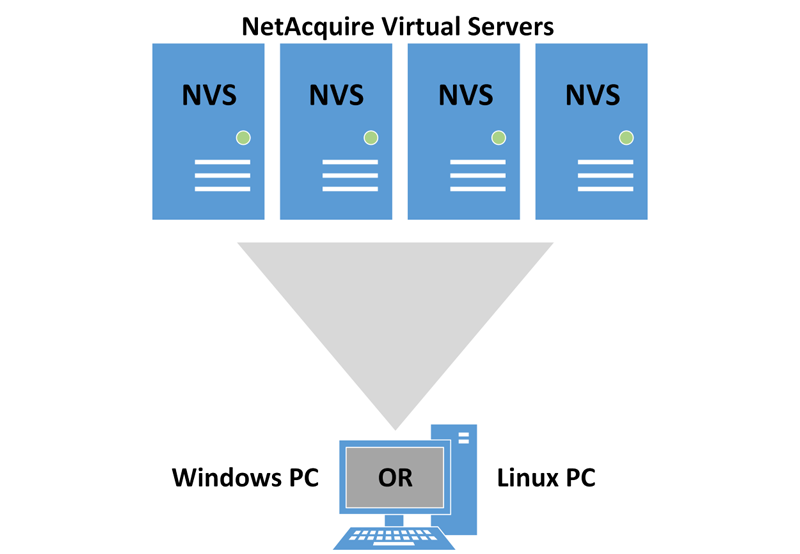 NetAcquire Corporation Announces Virtual Server (NVS) Makes Working From Home A Little Easier
If you are working from home and do not have convenient remote access to your NetAcquire servers, but still need to continue your work with NetAcquire software functions and features, we have the solution for you! Now, with NetAcquire Virtual Server (NVS) software and your Windows or Linux PC, you can run a virtualized environment that includes the NetAcquire server software and NetAcquire Deterministic Linux™ (NDL™).
With NVS, you can experience soft real-time operation that includes the full server functionality of NetAcquire Server software including:
Data Flow Engine

Access the full power of the NetAcquire Data Flow Engine, with dozens of built-in telemetry-centric processing functions, including full decommutation and frame synchronization capabilities

Recorder/Player

Work with recorded data streams in raw or IRIG Chapter 10 format for processing and analysis

Time Manager

Synchronize to NTP or PTP network time sources

Publish/Subscribe

Send decommutated parameters to network client destinations including NetAcquire MissionView for graphical display

Telemetry Over IP (TMoIP)

Receive or send telemetry streams from/to network sources/destinations using standard TMoIP formats including RCC218, IRIG Chapter10 over UDP and more
Experienced NetAcquire users can even develop custom software extensions and computations using the NetAcquire Server Extension Toolkit to extend NVS functionality or to test extensions prior to deployment. Data Flows and extensions developed in the NVS environment are fully compatible with and deployable on your real-time NetAcquire Servers. NVS supports symmetric multiprocessing (SMP) and has the option of running on Type 1 (bare metal) and Type 2 (software) hypervisors.
Get a FREE 30-day trial of NVS today! Find out more about stretching your telemetry processing abilities and budget with NetAcquire Virtual Server by contacting sales, [email protected] or 1-888-675-1122.